ISN Participates in Three Countries' Meeting in Denmark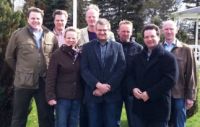 ISN exchanges information about latest developments in pig production with Dutch and Danish pig farmers' organisations. Traditional three countries' meeting held in Fredericia, Denmark.
The conditions are getting harder in pig production and no change is in sight currently. That's the outcome of the latest three countries' meeting. Last week, representatives of the ISN Interessengemeinschaft der Schweinehalter Deutschlands e. V. (ISN) met with representatives from the leading Dutch (NVV) and Danish (DS) pig farmers' organisations in Fredericia, Denmark.
Production Conditions Looked At Very Critically By the Public
During the two days of the meeting, the current events in the pig industry were discussed about. The participants in particular analysed the framework conditions which continue to change severely in pig production. No matter whether you speak of the Netherlands, Denmark, or Germany: The general public and politics in all three countries extremely critically scrutinise the production conditions. Hardly anything is left out. Everything regarding the stables' inside and outside is being questioned. There's nothing new at least for the Danes and the Dutch, who are already well positioned with regard to the public representation, most of all, of those issues. What's new, however, is the dynamics in which topics such as animal health, animal welfare and sustainability are pushed from different sides in Germany. Viewed as a whole, you can say: For pig farmers that want to develop further, there's a strong head wind blowing in all three countries.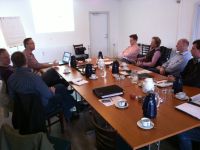 Revenue Situation Still Difficult
Seen from the revenue point of view, the pig farmers' situation continues to be very tense. Since the last meeting, which was held in October, the economic situation in all three countries has developed in a way far from positive. It is true that the prices are recovering after the all-time low which resulted from the dioxin crises in January. But above all the further increased feed costs go on making the situation very difficult for the sow feeders as well as the pig farmers in all three countries.
This current workshop had been organised by the Danish pig farmers' organisation, Danske Svineproducenter. Mr Hans Aarestrup and Mr Markus Fiebelkorn were the Danish participants. From the Netherlands, Mr Wyno Zwanenburg, Mr Theo Duteweerd and Mr Jaco Geurts had come to attend the meeting. As ISN representatives, Mrs Birgit Scharlau, Mr Christian Schulze Bremer and Dr Torsten Staack had arrived to take part in the meeting.
The next meeting was scheduled for the coming autumn and will be held in Germany.