EU Pig Prices: Vernal Mood on the Pigs Market – Some Quotations Continue Going Up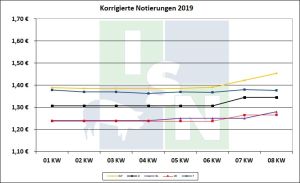 The European pigs-mature-for-slaughter market partly continues its upward trend which was started last week already. In some EU member countries, the quotations are still going up.
In Spain, in the Netherlands, and in Belgium slightly increasing quotations could be realised with regard to pigs for slaughter. On the one hand, the quantities of pigs on offer are decreasing; on the other hand, the meat market appears to relax a little, as is heard from various market reports.
It may be regarded as a positive sign that the currently valid quotations are holding their grounds in Germany, being accepted by all slaughter companies. Because of the differing development of the meat- and live-animals' markets, discounted prices had been paid for as long as a week's time by the major German slaughter companies.
It is remarkable enough that the quotations also went up for the second time in a row in Belgium, where the farmers are very much being afflicted with outbreaks of African swine fever. The corrected quotation (1.198 € per kg slaughter weight) nearly scratches the 1.20 € line. Apart from in Germany, steady quotations were also reported on from Denmark, France, Austria, and Great Britain.
With the quotations developing in an inconsistent way within the EU, changes in the European price structure are becoming obvious. The Spanish quotation strengthens its top-of-the-list position in the European price structure of the five EU member countries most significant in pig keeping. France and Germany are maintaining their second and third ranks. Because of their 3 cents' price increase, the Dutch went up to rank fourth, thus outpacing Denmark which is now bearing the red light.
Trend for the German market:
As is heard, the local market situation appears quite relaxed and friendly at the beginning of this week. Marketers report on vivid demand for pigs for slaughter. It remains to be seen now whether or not room is left for the prices to continue increasing.
More market information...