EU Pig Prices: Unchanged Quotations – Waiting for Price Improvements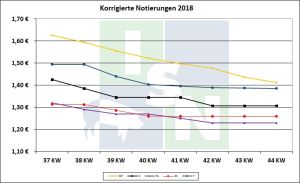 The European pigs-mature-for-slaughter market appears in an altogether balanced way this current week of slaughter. Apart from in Spain, no price movements are recorded, with the quotations showing a steady trend.
All in all, the situation currently maintains a steady standing. Besides the German leading quotation, steady quotations are reported on from the Netherlands, Denmark, France, and from Austria. The Belgian quotation as well maintains a steady level of a corrected 1.16 € per kg slaughter weight even after the ASF outbreak.
The market participants are particularly focusing on the German leading quotation, because hope arises in Germany because of the brisk demand for live pigs. At the same time, European pork is again sought for increasingly on the Asian markets. As a matter of fact, yet, two public holidays in calendar week 44 (31 October and 1 November) are restricting the pricing phantasies in various EU member countries.
The Spanish quotation is going on decreasing as it has over many weeks so far. With the ending holiday season and the holidaymakers now leaving (or not even have arrived) the favoured holiday region, the quotation is successively going down now. Despite clear price decreases, Spain does however, with its corrected quotation (presently 1.41 € per kg), still lead the list of the five EU member countries most important in pig keeping. The gap between Spain (top rank) and the Netherlands (bearing the red light) is no larger now than a corrected 18 cents.
Trend for the German market:
At the beginning of the week, the local pigs-mature-for-slaughter market does not show any news which might result in price changes. Placing the lots on offer is mostly finished for this week, even with the two missing days of slaughter, and demand is mostly covered. So, the prices may be expected to remain unchanged.
More market information...