EU Pig Prices: Steady Over the Turn of the Year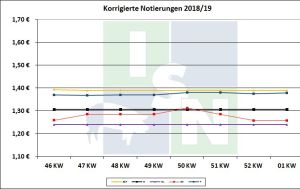 In most of the EU member countries, no change in the continually steady market situation was observed which nonetheless remained unsatisfactory from the pig keepers' point of view. In Denmark alone, the prices suffered a little just before Christmas, going down by a converted three cents per kg slaughter weight.
Over the few days of slaughter possible during the festive season, the slaughter belts were run at full capacity in all European countries in order to supply the fresh-meat markets in particular. Yet, the effect remains the same as it always is observed at the beginning of January: in the form of backlog supply. So, it was heard from Austria for instance that considerable backlog supply piled up there over the Christmas holidays. From France and Spain as well, backlog supply as is typical for the season was reported on which now needs to be sold over the next few days. At the same time, hope is pinned on the marketing campaign scheduled in the local food retailing business which is intended to boost the consumers' demand.
 Retrospectively, the majority of market participants is quite disappointed about the past year, 2018. The average quotation was found to be noticeably below the previous year's prices. The most considerably decrease was observed in Denmark and Belgium where minus 16 percent were quoted. Spain reported a lesser minus 9 percent. Matching more or less the European average, Germany reported a quotation for 2018 which was approximately 20 cents (= 13 percent) below the 2017 prices.
Trend for the German market:
Even in Germany, the market cannot be cleared completely without backlog supply at the beginning of this year. With both the food retailers and the processing industry needing to restock their warehouses, it may be expected that the slaughter companies' quantities on offer will be cleared swiftly. At the end of December, the quantities on offer climaxed for seasonal reasons. So, over the weeks ahead, the lot sizes are anticipated to be reduced, generally speaking. This week, the prices will remain steady.
More market information...