EU Pig Prices: Quotations Still Are Getting Nowhere – Recovery in Sight?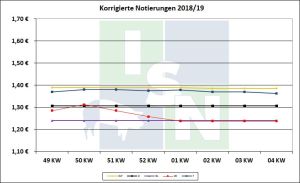 The European pigs-mature-for-slaughter market appears to continue being steady this current week of slaughter. For many weeks now, the majority of quotations have been moving on the levels achieved, not undergoing any changes.
Currently, the mood seems to be quite inconsistent among the market participants in the EU member countries. While, for instance, the supply-and-demand situation has been balanced most recently in Germany and trading pigs for slaughter has been getting more vivid again, the Austrians are complaining about plentifully supplied markets and above-average weekly quantities of live pigs.
Apparently, worrying about a possible outbreak of the African swine fever is predominant in the French market activities, as is reported by a market participant. There is word that the French slaughter companies increasingly seem to try selling fresh meat. At the same time, the quantities of live pigs on offer were altogether sufficient. All in all, slightly decreasing quotations are only reported on from Austria and France.
Just like the unchanged German leading quotation, the quotations have also been reported on to remain unchanged in Spain, the Netherlands, Denmark and Belgium. Because of currency fluctuations, the corrected British quotation is going up slightly.
Trend for the German market: The local pigs-mature-for-slaughter market has started into the week meeting brisk demand by the marketers. As expected, the quantities of live pigs on offer are declining.
More market information...