EU Pig Prices: Quotations Remain Unchanged at the Beginning of the Year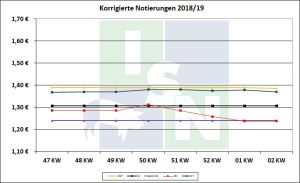 This current week of slaughter, the European pigs-mature-for-slaughter market remains well supplied. Compared to last week, the basic market situation has not changed much. The quotations have remained mostly unchanged of late.
In the various EU member countries, the backlog supply, which had appeared on the live animals' market over the festive season, continues to be sold gradually, yet has not been done so far by all accounts. Hence, the quantities of pigs for slaughter are still exceeding demand across borders.
From Austria, it is yet reported that the backlog supply is falling below of what quantities had been feared to arise. As a market participant is reporting, sufficient quantities of live pigs are available in France, where the year is usually started with various campaigns in retail trade. While most of the other EU member countries' quotations remain unchanged, the French quotation was corrected slightly downward. In Spain, a look is taken at pork exports because of the supply situation. There, stimulating impulses are hoped for.
As regards the Danish quotation, the optimum range of slaughter weights was increased. This way, Danish Crown are trying to prepare for the supply pressure possibly resulting from the missing days of slaughter over Christmas, just as they have done before.
Some optimism is observed to emerge in Great Britain, where the quotation went up slightly.
Trend for the German market:
At the beginning of the week, the selling of the backlog supply from the live-animals' market is continuing. Currently, intensive effort is required from all market participants with regard to getting the market situation back to being balanced.
More market information...