EU Pig Prices: Quotations Remain on the Level Achieved – Hope for Higher Prices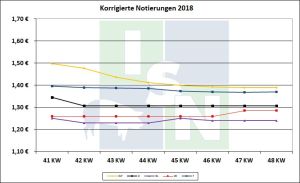 There still is no movement seen in the pigs-for-slaughter market this current week of slaughter. While the producers are waiting for some pre-Christmas impulse, the quotations are moving sideward again.
For seasonal reasons, the quantities of pigs for slaughter on offer are quite large, meeting brisk demand from the slaughter companies. The market situation is altogether balanced, with price improvements failing to appear on the meat market, as is heard from market participants from all sides. As a consequence, the quotations remain on a steady level in Germany, in Spain, in the Netherlands, in Austria, and in Belgium.
Without a trendsetting signal sent from the German leading quotation, it's quite a difficult issue for the European environment to cope with. That's what the undertone is like in talks with various market participants. The Danish quotation, which was able to go up somewhat last week, remains on an unchanged level this week.
Slightly weaker pigs-for-slaughter quotations are being reported on from Italy and Great Britain. There still is quite some supply pressure in Italy. In Great Britain, there are complaints about high slaughter weights at low demand on the spot market.
Trend for the German market:
At the beginning of the week, demand for pigs for slaughter continues to be very vivid on the part of the slaughter companies. So, the price development may be expected to be steady to friendly at least.
More market information...