EU Pig Prices: Markets Mostly Balanced – Prices Increasing in Belgium and Denmark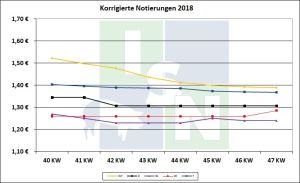 It now looks like the European pigs-mature-for-slaughter market is not quite consistent this current week of slaughter. Everything from rising to falling prices is observed.
Unchanged quotations are being reported to be recorded in Germany, in the Netherlands, in France, and in Austria. The Spanish quotation, still ranking first in the European price structure of the five EU member countries most important in pig keeping, also maintains the level it has so far achieved. The quantities of pigs for slaughter on offer are quite extensive for seasonal reasons. Slaughter weights have also gone up most recently. Because of demonstrations around petrol prices in France, logistics is subject to delays.
From Belgium and Denmark, the quotations are reported to be increasing. After the clear drop in prices caused by the African swine fever outbreak eight weeks ago, the Belgian pigs-for-slaughter prices are now slightly going up again. Yet, they continue to lag behind the other countries' prices, showing a gap of as much as 14 cents towards the German corrected quotation. In Denmark, the quotation went up by a corrected 3 cents. So, the gap towards the corrected German quotation could be reduced in a noticeable way. Recently, the Danish quotation had remained unmoving and unchanged for as long as six weeks' time.
Being corrected to the ISN standards, the British pigs-for-slaughter quotation went down because of currency fluctuations. In Italy, the price spiral is going downward for supply-related reasons.
Trend for the German market:
At the beginning of the week, the domestic pigs-mature-for-slaughter market is mostly balanced. The quantities on offer continue to be well demanded. The market participants keep waiting for additional impulse as well as for room to be left for improvement. With the quantities of live pigs presently being extensive – as regards lots and slaughter weights –, the crucial price increases for pigs for slaughter has been retarded until now.
More market information...