EU Pig Prices: Markets are Getting Nowhere – Prices are Still Increasing in Spain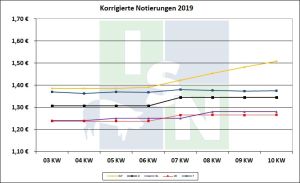 This current week of slaughter, the European pigs-mature-for-slaughter market seems to be getting nowhere for the most part. The majority of quotations are remaining on the level achieved so far. The Spanish and Belgian quotations are showing a positive trend.
The Spanish market has moved successively upward for a four weeks period so far. This, however, has not come as a surprise to this very popular holiday country; not at this time of the year. The corrected Spanish quotation was able to go up by 12 cents altogether over this time. The quantities of live pigs on offer in Spain are not enough to cover the demand. Other than in some other European countries, the slaughter weights are decreasing in Spain, meanwhile having fallen below the previous year's level. This has been reported by Spanish market participants. As is heard, some exporters are telling about movement in exports toward China.
From the Spanish point of view, the extensive quantities of meat on offer on the European internal market may be regarded as the reason for the pigs-for-slaughter market stagnating throughout Europe. Bargain offers from Belgium are making the situation even more difficult. Although the quotations have been slightly increasing most recently in Belgium, the country – still suffering from the African swine fever outbreaks – is still playing catch-up with the other European countries, showing a corrected price level of 1.22 cents per kg slaughter weight.
Continually unchanged market situations are reported on from Germany, the Netherlands, Belgium, and from Austria. Most recently, the weak meat business has nipped in the bud any hope for price increases.
Trend for the German market:
At the beginning of the week, the current market situation does not show any changes. As is heard, the quantities on offer are vast enough to cover demand on the part of the slaughter companies. Additional lots are also sold as swiftly. So, the price development may be expected to remain at least unchanged.
More market information...