EU Pig Prices: Germany Is Setting Signs of Stabilisation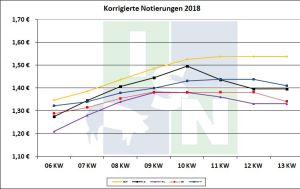 With only a few exceptions, the quotations on the European pigs-mature-for-slaughter market were able to stabilise at the beginning of this week. It is true that some German slaughter companies demanded price concession very early last week from the producers; but yet, unchanged prices dominated in Germany at last.
This stability kind of spilled over to the neighbouring countries, Austria, Belgium and the Netherlands, where no changes of quotation were observed as well. In France, however, the average prices fell by 3 cents during the Plerin auction, compared with last week's prices. Demand for pigs for slaughter was perceivably dampened through the veterinarians' striking as well as through the extended price gap towards the German, Dutch and Belgian quotations, as is reported from France. In Denmark, the pig prices went down by a very clear 4 cents' range. This might most essentially be a kind of adaptation to the last weeks' price decreases with regard to the German quotation.
Even with the slaughter weights still being very high and the business in exports to third countries still being difficult, the Spanish quotation is able to maintain a comparably high level. The holiday season now starting by the Easter holidays might be a decisive factor which is usually boosting the domestic meat consumption.
Trend for the German market: At the beginning of the Holy Week, there are more signs for further stabilisation of the market situation. Not too large quantities of pigs are on offer, and - quite foresightfully - the farmers seem to have supplied their pigs in the run-up to the shorter weeks of slaughter ahead. From today's point of view, prices are expected to remain unchanged on Wednesday.