EU Pig Prices: Dutch Quotation is Going Up – German Quotation Unchanged Most Recently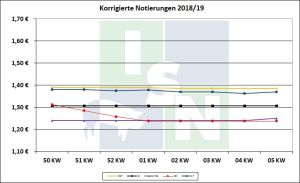 The European pigs-mature-for-slaughter market appears like being cemented. This current week of slaughter, the quotations are remaining unchanged again in many EU member countries. Yet, first positive trends are coming into sight.
Last week, the market participants from various EU member countries took a closer look at the German leading quotation's development. But nothing happened – no movement in either direction was seen. Among the market participants, this motionlessness, lasting over a long period of time, currently is a favoured topic even across borders. Despite brisk demand (for decreasing quantities of live pigs on offer), the German quotation this current week of slaughter remains on the level achieved a long time ago.
With the quantities of pigs for slaughter on offer now being less extensive, the Dutch beursprijs already increased a little. By their latest price increase, the Dutch were able to push their corrected quotation before the Danish quotation which is now bearing the red light in the European price structure of the five EU member countries most important in pig keeping. Germany continues to be a midfielder.
A marginal plus is reported on from France as well. Yet, this price increase rather was of political nature, states a French market participant. The quantities of pigs for slaughter on offer there were quite extensive still. The increase of the British corrected quotation must solely be attributed to currency fluctuations.
Trend for the German market:
There is good prospect indeed for the German price development. At the beginning of the week, the live animals' market is rather poorly supplied; therefore, the marketers are looking for pigs for slaughter. For this reason, the average price achieved during the latest internet pig auction has meanwhile gone up quite noticeably.
More market information...