EU Pig Prices: Disappointing after Failing Price Increase in Germany – Market Situation Still Stable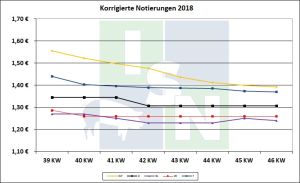 The European pigs-mature-for-slaughter market is moving sideward this current week of slaughter. Essentially, the pigs-for-slaughter quotations are being reported to remain unchanged.
Yet, many market participants feel quite surprised by the quotations' remaining on the level which has been achieved. Starting from Germany, exceptionally brisk demand for live pigs was recorded last week of slaughter. Thus, market participants at home and abroad have been expecting the German leading quotation to increase and the respective impetus to arise in the European environment. Expecting increasing trends in Germany, the Dutch quotation as well went up by 2 cents last week.
But it turned out differently. After the Vion slaughter company had announced an unchanged payment price for the new week of slaughter in Germany in the runup of the German quoting, there was no more room left. In the Netherlands as well the Dutch Vion and other well-known slaughter companies paid only unchanged prices most recently. In the end, nothing changed, and throughout Europe the majority of pigs-for-slaughter remained unchanged.
It seems that in Spain the seasonal price decrease has reached the bottom. The Spanish quotation went down only slightly and is thus maintaining the leading rank in the European price structure of the five EU member countries most important in pig keeping.
Trend for the German market:
At the beginning of the week, the local pigs-mature-for-slaughter market appears in a balanced way. Yet, the feeling of disappointment over the non-occurred increase of quotations is still in everyone's minds.
More market information...