EU Pig Prices: Balanced Market Situation - Awaiting Positive Trends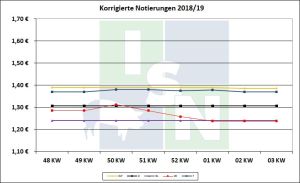 The European pigs-mature-for-slaughter market appears well balanced this week. Almost the whole lot of quotations are moving sideward.
Over the past calendar week, the slaughter belts were run at full capacity at the European slaughter companies in order to manage the backlog supply which had piled up over the turn of the year. There was already some indication of the market getting cleared and balanced in Germany by mid last week. So, the German quotation has been moving sideward for as long as 13 weeks now in an unchanged way and on the low level achieved (a corrected 1.31 euros per kg slaughter weight).
In view of the balanced situation in Germany, the pigs-for-slaughter quotations in other EU member countries followed suit. As is heard, selling the backlog supply is still continuing on the live-animals' market. In Austria, massive snowfalls are hampering the fresh-meat deliveries to the winter sports resorts, as is reported by the Austrian VLV.
Spain continues to lead the ranking of the European price structure of the five EU member countries most important in pig keeping. France remains second, being followed by Germany in the 3rd place, while Denmark is bearing the red light, ranking right behind the Netherlands.
The quotation is only going slightly down in Great Britain.
Trend for the German market:
The local pigs-mature-for-slaughter market is starting into the new calendar week in a balanced way. There is no pressure from the quantities of live-animals on offer. The tradespeople sporadically are already looking for additional lots.
More market information...